Research refines platform to address immune disorders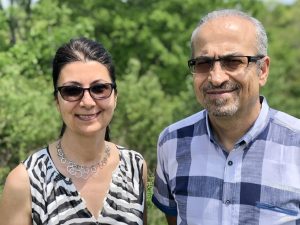 By Davis Suppes | Bond LSC
The things that protect you can also cause the most harm. That's especially true when it comes to your immune system, which protects you against infections, but is also responsible for a host of diseases, including autoimmune disorders, such as type 1 diabetes. 
More than 1.4 million Americans suffer from the self-harming condition of diabetes without an effective cure, but researchers Haval Shirwan and Esma Yolcu may have the answer.
The pair tackle the problem of diabetes and other autoimmune disorders by targeting the component of the immune system that does harm for modulation.  DNA-based gene therapy has traditionally been used as a scheme to modulate the immune system.    
"DNA-based gene therapy is a complicated, exhaustive and expensive technology," said Shirwan, a NextGen Precision Health researcher at the University of Missouri and a professor in the Department of Child Health and Molecular Microbiology and Immunology at the School of Medicine. "We wanted to see if there was a more efficient and practical way to do immunomodulation."
For conditions like Type 1 diabetes, where the immune system misfires and destroy beta cells producing insulin, they target to replace defective islets with healthy ones from another individual. Insulin is an important hormone that plays a role in regulating your blood sugar level. A major hurdle for islet transplantation is the immune rejection.
Shirwan and Yolcu co-pioneered ProtEx™, a proprietary platform that allows for generation of novel recombinant immune ligands and their positional display as single agents or in combination on biological surfaces, such as islets. This is a practical and safe alternative to gene therapy for localized immunomodulation. 
In traditional methods of gene therapy, DNA must first be introduced into the cell, but ProtEx technology bypasses that step. Sticking the protein directly on the cell surface for immunotherapy via a test tube allows for a safer, more effective method than gene therapy. Islets engineered to stick on their surface proteins evade rejection by the immune system. 
Shirwan's translational research program's goal is to develop safe and practical immunomodulatory approaches with applications to transplantation, autoimmunity, cancer, and infections. On the cancer side, Shirwan and Yolcu team has shown that the immune system of a healthy individual can be trained to surveillance the body for cells that may transform into cancer and eliminate them before cancer takes hold. "This is an exciting finding that has not been reported in the literature and sets the stage for  
Shirwan's focus of learning about the immune system and improving it came to him very early when he was a virologist for University of California, Santa Barbara. He developed an interest in immunology and wanted to learn more about immune defense mechanisms. Before bringing his talents to Mizzou he also spent time working at the California Institute of Technology, Allegheny University of the Health Sciences, University of Louisville, and Cedars-Sinai Medical Center.
He believes preventing these cancers and infections is the route we should be aiming toward, rather than trying to find new ways to treat them after they have already damaged the body to an extent. 
"Things like cancer are so effective and harmful because they use the same mechanism as the immune system to evade it," Dr. Shirwan said, "Just like how a runner can build muscle memory for running, our immune system can learn and build up a memory of these pathogens and infections to create a more effective response."
"This is just the tip of the iceberg,"  Dr. Shirwan said, "I am very excited to continue expanding on what our immune system is capable of."
This type of research contributes to the University of Missouri System's NextGen Precision Health focus. The NextGen Initiative unites scientists, government and industry leaders with innovators from across the system's four research universities in pursuit of life-changing precision health advancements.
Dr. Shirwan and his team are moving to the new NextGen building on Mizzou's campus in mid-September. He is very thankful for getting the opportunity to work in these facilities with these people, and he is excited for the next step of their research. 
Shirwan believes we have only scratched the surface of what our immune system is capable of. Our immune system may not always know what is good and bad for itself but one thing is for sure, Dr. Haval Shirwan is good for it.