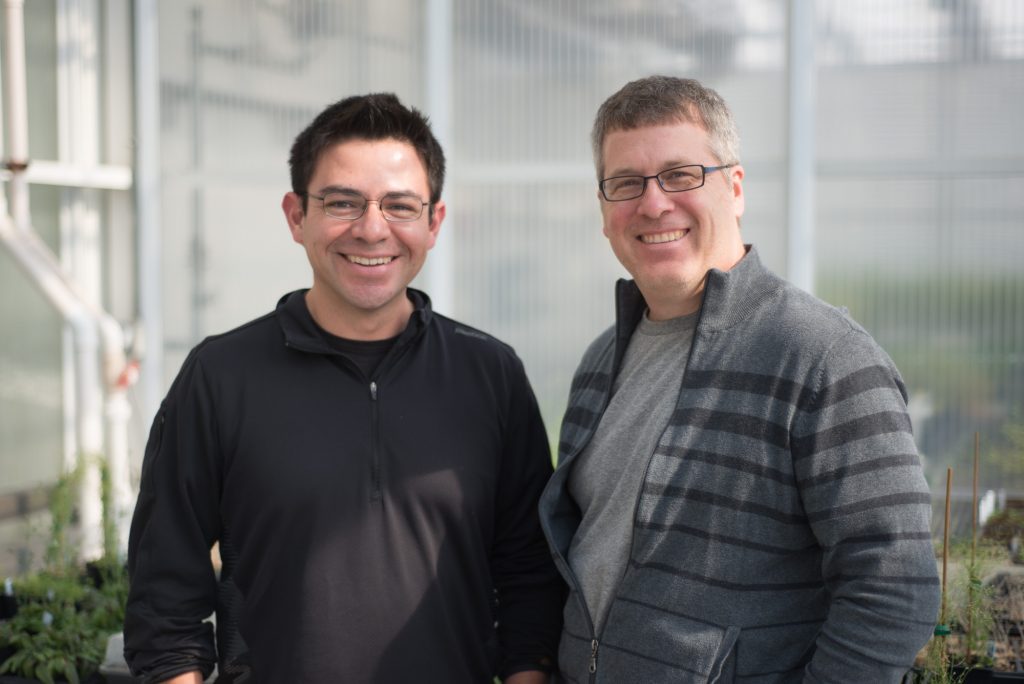 By Jennifer Lu | Bond LSC
Sometimes, timing is everything.
That was the case in what led to a new collaboration between the Mendoza and Peck laboratories. The two researchers were recently awarded $48,250 in seed money from the Bond Life Sciences Center to adapt a new technology to the study of signaling pathways in plant cells.
David Mendoza, a Bond LSC researcher and assistant professor of plant sciences who is interested in nutrient uptake in plants, got the idea for the project when he attended the Trace Elements in Biology and Medicine conference in June. There, he kept hearing about an enzyme called BioID used to identify protein interactions in mammalian cells.
"In plants, we have a hard time figuring out how proteins interact with each another to transfer information within the cell," Mendoza said. BioID could be the key.
BioID works like a spy slipping a small tracker into the coat pocket of every person it encounters, but instead of a tracker, BioID transfers a unique molecular tag onto every protein that comes near. It's a speedy process, no matter how brief the interaction between BioID and the incoming protein. But once the proteins are tagged, they can be rounded up and identified later, even if they've moved elsewhere in the cell.
Scientists can study which proteins interact with their protein of interest by linking BioID to their protein. This lets them track the signals being communicated to and through their protein without disrupting what's happening inside the cell.
Although BioID has exclusively been used in animal systems, Mendoza talked to the scientist behind BioID to see if it could be used in plants.
Incidentally, BioID has been publicly available for several years but the enzyme was impracticable for plant experiments. It needed a lot of raw material on hand before it could start tagging proteins, much more material than what is normally found within plant cells.
However, research on a more suitable candidate called BioID2 was published just months before the conference. Unlike its predecessor, BioID2 required very little starting material to function in plants.
"Like a lot of things," Mendoza said, "timing was key."
When he approached Scott Peck, a colleague at the Bond LSC and professor of biochemistry specializing in plant proteomics, with the news, Peck saw immediate applications for BioID2.
With currently available methods, plant scientists have to look at protein interactions in artificial environments, such as in a test tube or in yeast systems. A real-time protein-tagging method would allow plant scientists to observe signaling pathways in their native environment–the cell–under a variety of conditions.
"It allows the contextual information within the plant to still be present," Peck said.
For example, with BioID2 the Peck lab, which studies plant resistance to bacteria, could watch how incoming stimuli such as plant pathogens or stress from drought affect overall protein-to-protein interactions within plants, compare these protein interactions across different cell types, or even discover previously unknown protein interactions, he said.
"You know you have a good idea when the other person gets excited right away," Mendoza said.
Peck also had a suitable model handy in which they could test BioID2 at work, but the two researchers first had to make sure plant cells could produce functional BioID2. Mission accomplished, the next step is to make plants produce BioID2 that is linked to their protein of interest.
"The nice part of this seed grant is it lets us get a jump on some new technology to develop here," Peck said.
Using BioID2 in plants is an interesting and novel idea, Mendoza said. "For me, that's enough to try."
This seed funding is one of seven awarded this year at the Bond Life Sciences Center. These awards, which range from $40,000 to $100,000 in funding, foster inter-laboratory collaboration and make possible the development of pilot projects.