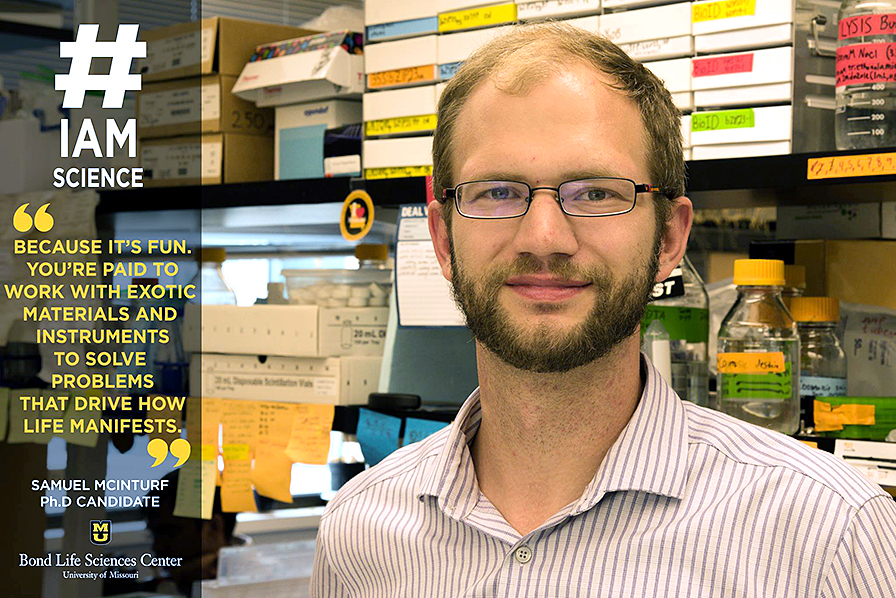 "#IAmScience because it's fun. You're paid to work with exotic materials and instruments to solve problems that drive at how life manifests."
Samuel McInturf's father is an accountant and his mother is an HR director, but somehow he ended up falling in love with science. By the 4th grade he had already asked his parents to buy him a compound microscope. He completed his undergraduate degree in plant biology at University of Nebraska, Lincoln with a minor in biochemistry. Now, he's finishing up his fifth year pursuing a Ph.D in plant stress biology and works in Dr. David Mendoza-Cózatl's lab at Bond LSC.
"I mainly came to Bond LSC to work with Dr. Mendoza," said McInturf. "The work in his lab was right in line with what I wanted to do and I knew the faculty at Bond LSC was great."
And he's enjoyed the last five years he's spent here.
"Bond LSC has vast resources of knowledge and labs are very friendly towards one another," he said. "So if you are short up on a reagent, or you need to learn to do an assay, someone is always available to lend a hand."
McInturf's thesis deals with understanding the genetic factors that balance the uptake and demand for micronutrients – heavy metals – against their toxicity. He specifically looks are regulators of iron and zinc homeostasis.
In addition to his interest in plant biology, he's also an engineer of sorts. McInturf helps teach a bioengineering class at Bond LSC with undergraduates. The goal of the class is to build robotics that aid laboratory research, and he has taught three of these classes so far.
"I found the change in scale between building widgets in my bedroom to building full scale devices challenging, but ultimately rewarding," he said.
For undergraduates interested in continuing a career in science, McInturf advises them not to give up, even when things get tough. He admits that he was intent on dropping out of school up until he was 18, but now he's almost finished with his Ph.D.
"Ten years ago I was very intimidated by what I saw as the difficulty of science and was wavering on whether I wanted to take the dive into a research-heavy field," he said. "It took a few years to figure that out, so I guess I would have told myself to get a move on and not be so faint hearted about it."
McInturf isn't positive where he's like to be in 10 years, but he'd enjoy continuing to teach and conduct research at a university like MU.
"I'd love to have Dr. Mendoza's job one day," he laughed.