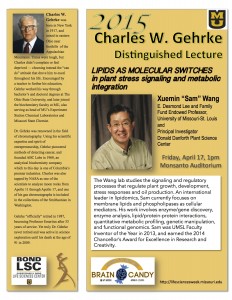 A simple virtue lies at the heart of Xuemin (Sam) Wang's research: thrift.
"A good way to think of it is how to increase output without demanding more inputs," Wang said.
Wang, the E. Desmond Lee and Family Fund endowed professor at the University of Missouri-St. Louis and a principal investigator at the Donald Danforth Plant Science Center, studies plant membrane lipids. His lab is focused on understanding the relationship between oil production and plant stresses such as drought and nutrient deficiency.
Wang will speak during the 31st annual Missouri Life Sciences Week, a yearly celebration of MU's research and an exploration of public policy, entrepreneurship and science outreach.
Wang's lab uses Arabidopsis, the lab mouse of the plant world, as a discovery tool but also works with crops such as soybean and the Camelina species. Camelina was widely grown in Europe before it was supplanted by canola, but Wang and others are working to develop Camelina as a productive oil crop.
The lab studies how lipids — the fatty acids that make up cell membranes — help regulate cell function. For example, they're trying to figure out how a cell senses water and nutrients and then "determines whether it should grow faster or store more lipid or carbohydrates," Wang said.
By understanding those processes, future research might develop plants that do more with less. That could mean less water and chemical fertilizer needed for the same or greater yield. Wang pointed to reliance on fertilizers as a major problem.
"Not only does it drive up agriculture production costs, but there can be major environmental consequences."
Ultimately, Wang's research could improve plant oil and biomass production while decreasing our dependence on fertilizers and abundant water.
Wang's presentation on "Lipids as Molecular Switches in plant stress signaling and metabolic integration" constitutes this year's Charles W. Gehrke distinguished lecture. Gehrke, a MU professor of Biochemistry who died in 2009, was instrumental in advancing the field of chromatography and helped analyze rock samples retrieved from the moon during the Apollo 11 mission. Gehrke grew up in poverty during the great depression and worked in melon fields during his youth before studying at Ohio State University.
Missouri Life Sciences Week is an annual event. In addition to Wang's talk, this year's line-up will also focus on HIV and emerging diseases and highlight more than 300 undergraduate and graduate research projects at its poster sessions.
Check out the full schedule of events here.